Check out the feedback from some of our recent Yoga Burn customers!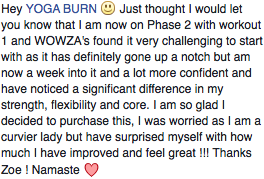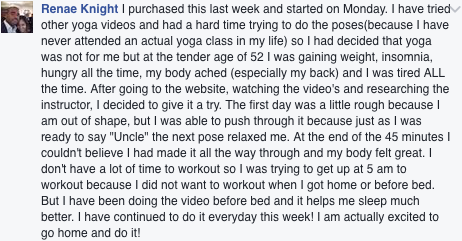 Been doing yoga burn since February lost 10 lbs, love the program and extra bonus the results!
Faye R.
I LOVE my Yoga Burn! I'm starting Phase 4 next week and LOVE the DVD!
Kimberly J.
I just wanted to send Zoe Bray-Cotton a thank you for your program & all the resources you send me by email for getting healthy. I look & feel amazing because of you (and I still have 25 lbs to go). Thank you! I haven't felt this good in a long time. Thank you!
Katie N.
I wanted to tell others that Zoe's DVD series is different from other yoga DVDs. You actually see results! Thank you Zoe for making this series. BTW, I am 60 years old and I can do all 4 levels
Jackie B.
I really am loving it. I LOVE yoga and have been missing videos like these and am so glad to have them in my life. I'm telling everyone I know about them. Every reason Zoe created these videos, I completely agree with.
Jennifer P.
They have seen how happy it's made me and they can't deny the results. I've lost an amazing 25lbs doing this program and I feel so great inside and out and they have both been curious about it. I hope they benefit from it as much as I have. My thanks again to you zoe for all your hard work, dedication and open heart for sharing it with everyone.
Vivianna L.
I'm feeling the difference and others are noticing it! I hope to continue on this positive way in my life change. Many blessings to you for your teachings!
Jessica C.
I have been so happy with the results of your DVD "Yoga Burn" and I want to keep on track. I have done many workouts in my life (as I'm 58) but I have never done anything that has strengthened every part of my body without me being totally focused on that one part. It is so much fun to see the changes without even realizing how much I am working on that one particular body part.
Claudette L.
I want to say that the yoga exercises are just to my needs. Completely satisfied. Very clearly understandable and I can stop and redo them whenever I want. It's relaxing and clears out mental distress.
Anise T.
I've lost 9 pounds since starting the program. Thank you for your encouragement!
Doris T
Thank you everyone at YOGA BURN! You make me a better, more wholesome, and happy person!
Cynthia J.
Your program was ideal for me because my husband and I are out of town quite often so it is hard to join an exercise class since I would be missing quite often. I was able to download your program and take my computer with me when we travel
Sue M.
I am truly enjoying the dvd's and it has worked amazingly for me I am actually down a size, which I have never been successful in the past. I have been doing the dvd's faithfully.
Terry J.
I have the original Yoga Burn set and love it! I had tried yoga several times in the past but never really enjoyed the routines - yours, I love!! It's a great workout while being therapeutic at the same time. I'm in my 40s, work full time and have two teenage boys on my own - so I actually find doing yoga burn in the evenings is a great way to finish my day.
Janine T.
Thank you for this wonderful yoga workout it has helped me in so many ways. My back has been a problem for me for a long time but since I started your program my back hardly ever bothers me anymore. I am looking forward and can't wait to see what is next.
Jen M.
I have done yoga burn and then the final phase. I found it ok to start with but now I love it, I'm so happy I stuck with it. I want this to be part of my life for ever. So now I'm looking forward to the monthly yoga burn to continue my journey, although I think I should have ordered it earlier as I only have one week to go on the final phase.
Caroline D.
Thank you for all you have done in my life! I am a changed person, back to who I once was but the best version ever of me. I am the healthiest I have ever been in all areas in my fifty-six years. Yoga Burn has played a major part of my taking back my life.
Debbie W.
You are a constant source of inspiration to me. Thanks for helping me keep things in perspective when I'm feeling discouraged about my weight and that reflection in the mirror.
Laurie J.
I am working my way through your amazing, brilliant, fantastic Yoga Burn DVD's… Absolutely love the challenge & the benefits. Also, love to read your daily tips, inspirations & encouragement. Thank you all so much, I really appreciate your hard work & attention to helping us to help ourselves!
Jenny D.
I love exercising and I have tried many different ways to stay fit. I have tried the majority of the programmes you see advertised. I can say with confidence that Yoga Burn has given me somewhat unexpected results I always desired but never achieved. Why unexpected? I used to think that its the high impact workouts that made me feel sick and exhausted achieve the most results...until I tried a random yoga work-out and loved it. However, I wanted to start from the basics moving up the intensity scale. Zoe's Yoga Burn turned out to be what I was looking for. Each work-out is between 45-50 minutes long and targets different groups of muscles (you get 3 different workouts per month). I really like it that each work-out consists of 3 repetition of a 15 min workout. You master the moves in the first round and really concentrate on getting it right the 2nd and 3rd rounds. It is absolutely not boring! I actually look forward to waking up and getting onto my yoga mat.
We all know that it is good to "shock" your body with a new routine. Well with Yoga Burn before your body has a chance to get used to a workout and get lazy, it is time to kick it up a notch. After month one I was amazed at the results! I started to see my abs coming through, and most importantly, that lower abdomen, which is so hard to train became noticeably stronger. How motivating is that! Each time I started a new workout I was aching in place I never thought possible.I never feel exhausted after Yoga Burn, not even tired, I feel energised and have that healthy glow to my face, that people notice. I also noticed a change to my mental state and the state of mind, i.e. I have learned how to tackle stress, how to deal with a bad phase or people around me who don't make me happy. I never believed it possible.
Zoe also offers meditation solutions for body, mind and soul. Before I tried them, I had thought "I can not relax, I can not meditate, I can not clear my mind". Zoe's techniques really work. She also has a calming voice. And the settings where the workouts were filmed have a calming effect. I also find it good that Zoe doesn't talk in her videos, her voice is in the background. Because if she did talk and worked out how else would she connect movements to the breathing!
I have also tried Zoe's Yoga Burn Monthly month 1. Which is amazing! It will improve your stretching, your flexibility and your energy levels, no doubt.
I am really really impressed with the results and recommend this programme to anyone. Just be patient and you will see results.

Natalie K.
I just want to share my story and (say) thank you. I bought yoga burn about a month and a half ago and I just want to say I LOVE it. I am 51 years old, in good shape, I walk every day up and down hills and do Jillian Michaels dvds. But as I've aged I've lost my flexibility and was having problems with the muscle down the front of my right thigh. Well, not anymore!!! I feel great, I'm getting my flexibility back and the pain in my thigh is GONE. I'd gone to physical therapy and been given exercises which were helping but the pain still came and went. Now, doing your program it's completely gone. I feel better than I have in years and so inspired I had to share with you and thank you. I know this was a very long email but it's from my heart. Thanks for reading.
Melinda D.
I just turned 60, but try to stay in shape. For the last year and a half, I've had a right foot problem. I saw two podiatrist, physical therapy, and a cortisone shot. No more cute shoes for me! And my favorite sport, walking, was becoming less favorite. But as I've been practicing each morning your yoga, I've noticed my foot is better. I've even worn cute shoes with no after effects! It is amazing that maybe my back, leg muscles, knees and ankles, are connected to my foot issues. So as I have been stretching and twisting, it is healing itself! Thank you for your great videos. They are doable, and progress nicely for beginners.
Joy T.
I only had a few pounds to lose, but am amazed with my strength and balance. Also I couldn't figure out why I just dropped 4 pounds for no reason, when I was actually eating more. I suddenly found myself hungry all the time. I've been doing yoga burn faithfully for about 10 weeks, which Brings me to my question. What do I do after the first 3 phases. I absolutely love it. My husband reminded me it was my yoga causing my weight loss. I didn't realize as I had been doing it for about nine weeks before I noticed. He also notices I'm more toned. I seem to have gotten my metabolism back I had when I was young. I'm quickly approaching 60. Aaahhhhhh!!!! ( I don't feel like it). My husband sees the results I've had and is anxious to start it with me.
Maraline T.
Your words of encouragement and positivity inspire me every time they show up in my inbox. Your 15 minute meditation flows help keep me balanced, focused, and de-stressed. I love the yoga burn system even though I am moving through it very slowly (I mostly do the beginner flow as it really helps with some of my back issues). And I love the videos you post, and the joy you convey... always makes me feel joyful. Please don't ever stop doing what you do. I would miss you so much! ...like a dear, dear friend, even though I don't know you, lol!
Stacey L.
Since I began Yoga-burn, my pain is going down a bit. I sleep better and I am starting to feel less pain in the morning. My concentration is getting better. I know I have a long way to go and this will adjust in time. I also read all the clues and tips you send and I enjoy each of them. I am a business woman and travel back and forth, with this clear mindset, I carry your CD's where I go and just open my phone and do the bonus yoga. This keeps me going.
I've achieved so much from my time with you. I always come away calmer and ready for my day after my practice. I've suffered some knee ligament damage from a recent fall and am not as flexible as before, but I continue with your restorative yoga. Thank you for the guidance and never doubt the value of your program. As with any form of education, the student can only get from it what they are willing to give to it.
Kathy M.
These are the reasons I love Yoga Burn:

Zoe looks great and I'm inspired to keep up my yoga practice so that I can be as toned as she is!
I like how she explains every move while doing them so that we her students also understand what's happening. Not all yoga instructors do so as clearly.
She has a nice upbeat tone to her voice and it's great to work out while listening to her sounding firm yet gentle.
I like how she puts on some makeup and wears really nice yoga outfits - again, that makes watching her more interesting!
I love that there is a digital version so I don't need to use a DVD player and I can do yoga anywhere in the house. I'm now looking forward to the YBM's digital version too!
When I first started the workouts, I honestly was cursing my way through it, feeling frustrated and angry that I couldn't do all the moves. But I was inspired by Zoe's look, so I kept on, waking up at 5 am daily to do the day's 45-minute workout diligently, even when I couldn't manage all the poses. I just tried to keep up as best I could. Then, somehow, as the days became weeks, I couldn't believe it - I was actually managing to do the things Zoe was doing! I was so thrilled. I still don't look as professional as she does, of course, but I've managed to somehow do all the moves and it's such a great accomplishment for me. I just turned 57, btw, so I'm not a young girl with everything still going for her...
Since I can do the moves now, I am convinced that Zoe really thought through the workouts and designed them in a way that beginners can go from one phase to another competently, if they listen well, follow instructions, and really keep at it. It's really amazing how she designed the program so well! Due to my satisfaction with the Yoga Burn program, I decided to also try the Yoga Burn Monthly series. I'm so excited to really make yoga a part of my life!
I'm moving to the US next month and have decided to buy an entire wardrobe of yoga outfits to inspire me to work out everyday - it sounds silly, but wearing good nice stuff makes a difference to me, lol...
Thanks very much once again for a very inspiring yoga program and more power to Zoe and her team!

Gina F.
I personally had a total misconception of what yoga is. I thought it was for contortionists and new age folks who like to chant.
Your yoga is nothing of the sort. I really am enjoying it. I use to be an ultra marathoner and loved only cardio. I have osteoarthritis in my right hip and can't handle those types of workouts anymore.
I decided to give your yoga burn a shot and am pleasantly surprised.
So far, I like the way I feel and look. Little by little. One workout at a time.
Evelyn D.
I was a 445 pound yoga enthusiast. Now I am down to 330. My weight has been a lifelong struggle and I have been judged a lot in my life. It was good for me to be reminded that everyone deals with the judgement of others, even your beautiful self. I love your articles they are so upbeat and positive. Please keep it up. We need more positive people speaking out. Thank you.
Amy R.
You are such and inspiration to me and of course many around the Yoga Burn family. Without your guidance and inspiration I know that I would have never continued on with your program or any other one for that matter. I am 56 and feel better today than before I met you online.
Keep inspiring those who will listen, you just might save a life like you saved mine.
Carol L.
I have to say, I fell into a rut. I have always been athletic and into exerting myself to build stamina and endurance, beit yard work, sports, exercise, et cetera. As a mother of three, my times of exertion definitely fluctuate. Before I discovered YOGA BURN, I loved walking, bike riding, and got really into Zumba. Zumba helped me trim down a little, but then, I felt like it wasn't enough on its own. So then, I forever, gratefully came across YOGA BURN. Was going strong for a while, getting through the whole program and then some, but then my work at home picked up, and school let out. Needless to say, I became very inconsistent trying to balance sleep or YB, and then became non-committed. I kept putting it off and saying I would start up a new time managing routine come the new year. And here we are... I got out of bed this morning while the house was still quiet and the outside world was still dark. Woke myself up with phase 1 of flow 1 and it was exhilarating! I will never give up my connection with your program. I feel so healthy, happy, calmer, loose, and well on your program. I always try to share it with my friends.
Jillian B.
I feel like you are a sister, close cousin or a beautiful niece in my family. :)
Anyway, I just started your program a few months ago and boy do I feel a definite difference in the way I feel. I am 55 years old and love the body/mind relationship your teachings, both yoga burn and your meditation series, has provided. I also enjoy your daily blog/newsletter which is always so encouraging and informative.
Anita S.
I just want to thank you for putting together such a stellar, comprehensive, and fun program! I am a life long consumer of fitness programs, (and am a group fitness instructor myself.) Yoga Burn is one of my all time favorites!!! The videos are so easy to follow - with spot on instruction - and Zoe's soothing, sweet, and motivating instruction keeps me going:) The workouts are interesting as well as challenging - and I love the way you have them play consecutively so that I feel a true sense of accomplishment once I have finished my daily 3. I can't wait for more!!!
Joanna W.
I just wanted to let you know that I am so happy that I found Yoga Burn. I look forward to doing all the flows, mediation and reading your emails. I even created a Facebook account so I can be on top of what you are posting!
My intention every day is to be a little more like you. Your knowledge and positive attitude have made a huge difference in the way I feel every day.
I also made a huge change in the way I eat too and I give you all the credit.
Ceane P.
I have been using your Yoga Burn for probably about 15 or 16 weeks now. I am 59 years old and was glad I purchased your fitness program. I felt I was losing my flexibility and with the ski season coming and 60 looming next year I thought I had better get a handle on it. I am pleased to say my flexibility has greatly improved. Although I have not lost much weight I feel I have toned significantly. Just yesterday a woman at church said, "You really have been losing weight." I wanted to kiss her. I explained I am religiously using your program every other day and I feel I have toned a lot.
Carol L.

*Results will vary based on how long and how closely you follow the information presented,
as well as other individual biological factors. As individuals vary, so will results.
Get Started On Your
Yoga Burn Journey Today!


Digital Plus
Physical
Digital Download + Physical Collection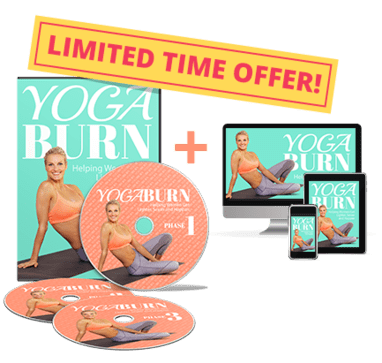 Instant access to download
Yoga Burn, plus receive the complete
physical collection
$47




This program is backed by a 100% money back guarantee for 60 full days from your original purchase. If you're not totally and completely satisfied with this program, your results or your experience in the first 60 days from your purchase simply let us know by calling our toll free number or dropping us an email and you will be issued a full refund. If you purchased the physical version of this program, you may simply return the product anytime within 60 days of your purchase and you'll receive a full, no questions asked refund.